How would you like to help the movie Slay Belles AND own an original (my very last) Jason X poster signed by a bunch of people who didn't have anything at all to do with Jason X the movie?
Tyler Mane who played your favorite Sabertooth in X Men (X's don't scare him) and your favorite Michael in Halloween I & II. Actor, producer and good friend. He and I once blew into a breathalyzer and maxed the thing out.
Derek Mears who played your favorite Jason in Friday the 13th and your favorite Predator in Predators. His acting range is nuts. Though beloved for horror, his comedic timing and improv will make your dreams come true.
Dean Lorey who wrote Jason Goes to Hell and Major Payne before years of writing TV shows like My Wife and Kids and Arrested Development. He's currently running the upcoming sitcom Those Who Can't. I once slept on his bathroom floor because the tile was cool. It had something to do with Southern Comfort (the movie, not the hateful drink that will result in your seeking the "comfort" of a cool tile floor). Were it not for Dean Lorey, I would still be working as a stripper in Texas.
Gary Tunnicliffe, your favorite FX guru from My Bloody Valentine 3D, Drive Angry and the most shocking scene in Gone Girl (that didn't involve a penis… wait… it actually did involve a penis… never mind). Hire him for his talent but love him for that sexy thick New York accent (although it may be New Jersey).
Izzie Rain Farmer, who asked, "Daddy what are you doing?" To which I replied, "I'm getting a bunch of friends who didn't work on Jason X to sign a poster for some friends." At which point she informed me, "Daddy, I didn't work on Jason X."
Mark Swift, 50 percent of the Shannon/Swift team who brought you Freddy Vs. Jason and gave us Mears as Jason. There's also Gator Farm. And half a dozen upcoming bits of magic including a heartwarming story of the founding of the Lucky Charms family breakfast cereal as well a based-on-a-true story saga of the French team of geometry professors, who after a night of drunken Scrabble, discovered the three sided triangle. And beer. Always beer.
Joe Lynch, Actor, Producer, Director, Writer, Cinematographer, Editor, Camera and Electrical Department, Miscellaneous Crew, Animal Colourist, Cobbler, proctologist, Oyster Floater and Beverage Dissemination Officer, who gave you your favorite Wrong Turn as well as your favorite sex zombies. Not to forget Everly, Plissken and Ferris.
Adam Green, the man who gave you the slasher franchise, Hatchet. As well as Frozen (the Disney Movie, not the ski lift horror). And with his brother, Joe Lynch, brought us Holliston, The Movie Crypt and an unending supply of Halloween shorts. From Adam's latest, Digging up the Morrow to his first, Arwen (who is smaller than you might think), Adam is horror royalty.
Brian Collins, who used to watch a horror movie a day until after just 2500 days up and quit. He feels Jason Takes Manhattan is better than Jason X, therefore earning his place as a signature on this poster. He also writes for the website Death Bird Movies… that's not right. It's Bird Movies then death. I think. Oh, and his one year old has a twitter account but I'm pretty sure Brian is actually tweeting. Spoiler.
BenDavid Grabinski, writer, director and collector of celebrities began his career by having something to do with the Black List which I think is a restaurant on Sunset. Although his shorts, Cost of Living and Enormous are pretty grand, his greatest accomplishment has been suckering Amanda into marrying him. Oh yeah, see his upcoming movie Skiptrace, staring Jackie Chan in December.
Mike Mendez, the editor and director who brought us Big Ass Spider, lives in a Willy Wonka like house of horror and superhero toys. He is part of the upcoming Tales of Halloween and a card carrying member of the Masters of Horror. His Halloween and Christmas parties are legend. As is his smile.
Henry Rollins, musician, actor, writer, producer and radio host. From Black Flag to gay rights, Rollins has always been insightful while brutally outspoken. "Want a good body? Work at it. Want to be a success? Work at it. Want to be truly exceptional? Be a touch insane… you need a little bit of insanity to do great things." He collaborated with William Shatner.
Betsy Rue, my sweet Irene. Betsy and I made pretend sex in My Bloody Valentine 3D and both died for our sins. Years later I watched Betsy fall and break her sternum. And I laughed. Because I didn't know she broke her sternum. I feel bad about that. If I could go back and change it… nah, I'd still likely giggle some. Actress and producer, Betsy fosters several thousand puppies and currently has two buns in the oven.
Kevin Munroe, director, writer, producer and out of this world artist. Kevin directed the CGI TMNT, Dylan Dog and the upcoming animated features Sly Cooper and Ratchet & Clank. He likes beer and guitars and long walks on the beach.
Renae Geerlings, Actor, writer, producer. Halloween II, Compound Fracture and the upcoming Penance Lane. She even voiced roles in my little movie Heavenly Sword. I have slept on her couch more than you.
SpookyDan and Tammy Sutton, it is they for whom we gather here today. Many in this town who stand the test of time are referred to as Hollywood Royalty. Dan and Tammy are Hollywood Loyalty. Loyal to the genre and to their friends.
As of this update only 4 days to go!
How you ask? How can you, in a mere 8 days, own this amazing piece of film insanity?
I'm glad you asked. Here's how…
Starting June 2nd until close of the following Indiegogo campaign, every 25 dollars contributed gives you a chance at a random drawing for the poster. 50 dollars means two chances. 100 dollars means four chances and so on.
Tweet me after your contribution, @todd_farmer and the SLAY BELLES: A SPOOKYDAN KRAMPUS FILM Indiegogo link so I'll know to add your number of chances to the list.
Go check out the trailer and take a look at the amazing cast and crew. I've read the screenplay which is scary, sexy, funny and rude. The perfect stocking stuffer. Your contribution helps a passion project get made and gives you a chance or chances at a goofy one of a kind signed poster.
If you are a horror fan then you may already know or know of SpookyDan and Tammy. If not, you should get to know them. They are horror friends and family and have always been there to support others in the genre. This is a wonderful chance for the community to give back to them.
Thank you for taking the time to read and check this out.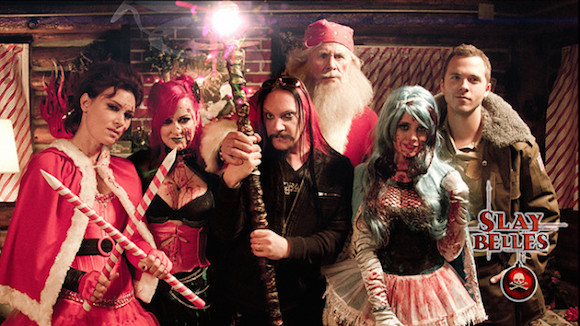 Thank you and happy creepy Christmas everyone.